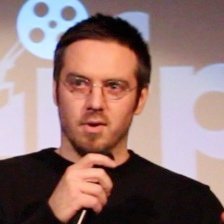 Justin Burris McGowan
42pictures
Writer, Director, Producer
Seattle, WA; Los Angeles, CA
https://42pictures.com
Justin Burris McGowan is a Writer, Director, and Producer, as well as the Managing Member for the motion picture development and production company 42pictures LLC.

Justin's early films Winter Leaves and Knowing the Game both premiered at the Palm Springs International Festival of Short Films, and Knowing the Game has since gone on to a five-year international television distribution contract.

Justin's latest project, Going Home, took Semifinalist in the Austin Film Festival Screenwriting Competition, the Page International Screenwriting Awards, the Hollyshorts Screenwriting Competition, and the Vail Screenplay Contest, as well as Finalist in the Filmmatic Short Screenplay Awards, and the Los Angeles International Screenplay Awards, and 3rd Place in the Cinequest Screenwriting Competition.

Justin has several feature and episodic projects currently in development, including the feature that the story of Going Home comes from.

In addition to originating his own projects, Justin has worked in various production and post-production capacities for diverse clients such as Fox, Warner, Paramount, Amazon, Nintendo, Flogging Molly, and Alicia Keys.